Breckles Insurance Brokers – Serviced by Unifor Local 1106 Members. Call 1-877-229-4677 or visit https://www.uniforinsurance.com/
Higgins Insurance – Offers group home and auto insurance for Auto, Property, Medical, Watercraft, Travel Trailers and Motorhomes. "Our number 1 goal is to have quality insurance coverage that will protect member's financial well-being in the event of a claim while enjoying preferred group savings." For a no obligation quote, call 1-866-273-2911, email quotes@higginsinsurance.ca or visit www.higginsinsurance.ca
Marks Work Wearhouse – 10% discount on purchases with Unifor Local 506 Client Savings Card. Contact your Regional Chair for your discount card. Region 1 Chair – Tammy Lewis; Region 2 Chair – Leesa Allain; Region 3 Chair – Adam Costain; Region 4 Chair – Alain Ouellette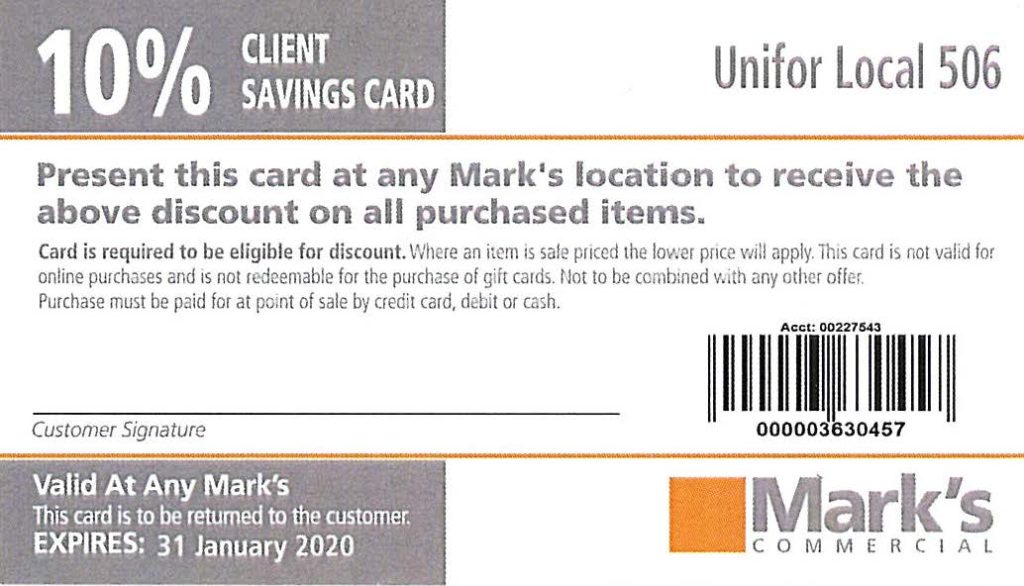 Union Savings – Provides exclusive discounts on Auto, Entertainment, Financial, Home, Insurance, Retail & Travel for Unifor Local 506 union members, retirees and their families. How it works: Find UNIFOR – Local 506 on the list and register for a free account. Register at www.unionsavings.ca or call 1-800-418-2990.

Perkopolis – Offers discounts on Shopping, Travel (Car Rentals, Flights, Hotels), Movies, Wellness and Food. " Perkopolis is Canada's leading provider of fully managed perk programs, in use by over 2,000 Canadian organizations." To register…
Go to www.perkopolis.com and click "Register" in the top right corner.
You will receive a Member Registration email, click on the "Complete My Profile" button and enter your info in the required fields.
Enter your member ID code which is 'UNIFOR506' + your Employee ID number in the "Member ID Code" field – Example UNIFOR5066080000
MHCSI Preferred Pharmacy and Lawton's Discount Cards – This program enables members (and eligible dependents) to receive additional coverage up to $3.00 on each drug prescription filled at participating pharmacies. The member will also enjoy a range of discounts on their front store purchases at Lawton's Drugs. Click on the links below for information about the program and how to enroll.
Click for information on how to receive your cards
Important update on MHCSI discount
January 2021 Update & Exclusive Offer: