Click Here to View Newsletter in PDF Format
Local 506 Protests Bill-23
Members were protesting Bill 23 at MLA offices across the province. The bill enables government to employ non-unionized replacement workers.
"The Higgs government wrote and passed Bill 23 without any consultation from labour. As expert negotiators and labour representatives, we are concerned this government does not understand the impacts this bill will have on labour relations in this province," said Jennifer Murray, Unifor Atlantic Regional Director.
The best place for labour disputes to be resolved is at the bargaining table, with both parties engaged in good faith bargaining with the shared goal of settling a fair deal. Bill-23 will tip the scales in favour of the employer – in this case, the provincial government.
Local 506 Bursary and Scholarships
Local 506 is now accepting applications for three scholarships, each worth $1,200. These awards are available to the children of Unifor Local 506 members and are open to secondary education students in their first to fourth years of study.
The Women in Leadership Bursary is open to all applicants and is in memory of sister Helen E. Allain, the first female president of Local 506. Local 506 acknowledges Helen E. Allain's contribution to our Local and promotes future involvement and activity for women in the labour movement.
The Day of Remembrance Scholarship honours those members who have lost their lives on the job. Local 506 is committed to Health and Safety in the workplace and advancing the need to be proactive for the safety and well-being of future workers. This year we honour the memory of Local 506 members Mike Daye and Barb Murphy, who passed away in 2022.
The Truth & Reconciliation Scholarship honours the children who never returned home and survivors of residential schools, as well as their families and communities. The National Day for Truth and Reconciliation on September 30th commemorates the impacts of residential schools and to promote the concept of "Every Child Matters."
Application forms for the Local 506 Scholarships are available on the Local 506 website and the deadline for submissions is June 30th.
Bargaining Workers' Power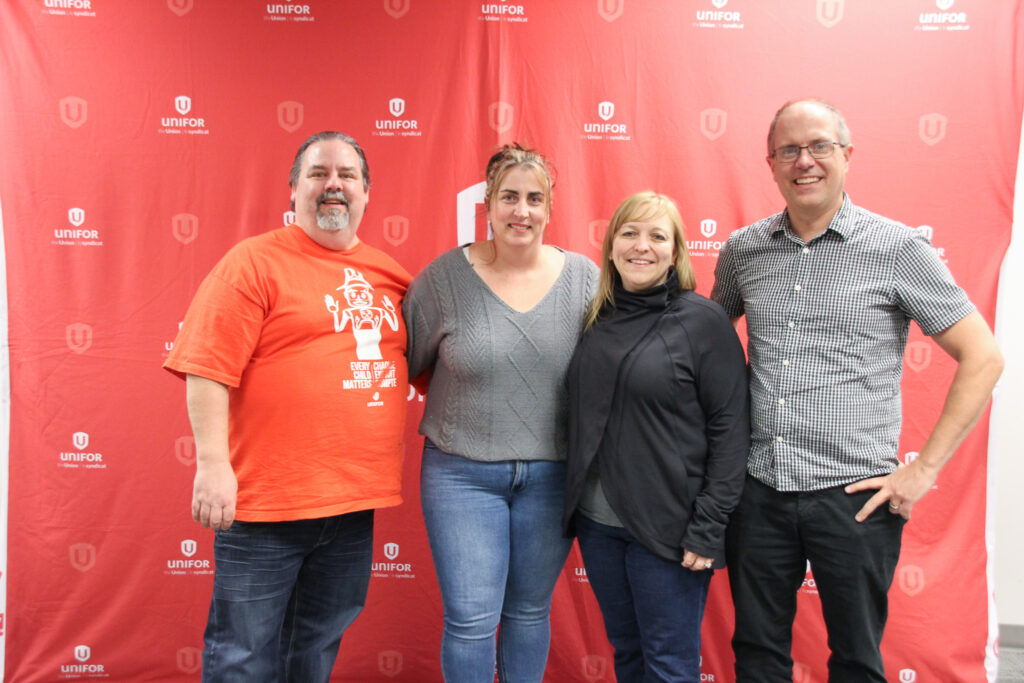 This month, members of the Local 506 Executive attended Unifor National Bargaining Strategy sessions in Saint John and Moncton.
These sessions provided an opportunity for local union leadership, bargaining committee representatives and activists to come together, and work collaboratively on bargaining priorities and building bargaining power.
At the 2022 Constitutional Convention, Unifor delegates overwhelmingly endorsed the union's Action Plan – an ambitious three-year program to build worker power through strategic action and solidarity. Included in this plan is a commitment to update the union's national bargaining program, informed by the ideas and experiences of members.
Strategy session participants heard from the Unifor Research Department, including an outlook on broad economic and bargaining trends. Participants also discussed bargaining priorities, strategies and new approaches to address the challenges facing our members, and all workers, throughout the country.
The bargaining program outlines broad Unifor priorities and presents new ambitious ideas for bargaining committees to consider in their negotiations. This year's effort marks the first time Unifor has connected bargaining program development with a membership-focused consultation. This work will culminate in a national bargaining summit held in conjunction with Canadian Council meetings in August.
Unifor National Scholarships
Unifor recognizes that the costs associated with post-secondary education is a challenge for many working-class families. To assist in making education more accessible, Unifor has established 28 scholarships of $2,000.00 each.
The National scholarships are awarded to children of Unifor members in good standing. Students must be entering their first year of full-time post-secondary education (university, community college, technological institute, trade school, etc) in a public Canadian institution.
Instructions to submit applications for the National scholarships are on the Unifor National website at www.unifor.org/scholarship and the deadline for applications is in June.
New Members
Local 506 welcomes the following new members!
Théo Chaloux – Region 2
Nicole Ross – Region 2
Mason Asbell – Region 3
Marc-André Brideau – Region 4
Florante Laigo – Region 4
Nathan de Groot – Region 4
Marc Ouellette – Region 4
Chad Pelletier – Regioon 4
Issoufa Alimane Assalik – Region 4
Retirements
Best wishes to the following Local 506 members who have retired recently:
Gary McGrath – Region 1
René Doucet – Region 4
Brent Demerchant – Region 3
Veronica Titus – Region 1
George Stymiest – Region 4
John Mangum – Region 3
The Local gives retiring members a $150 gift to celebrate this milestone. If you are retiring in the near future, please contact the union office at unionoffice@unifor506.ca to ensure we have your current mailing address, phone and email information.
Unifor Family Education Program
The Unifor Family Education Program is a unique program where members and their families learn about our Union and issues facing Canadian families. The program is held at the Unifor Family Education Centre in Port Elgin, Ontario on the shores of Lake Huron.
Participant's accommodations, meals and airline travel are paid for and there are three sessions scheduled:
Session 1 – Sunday, July 9th through Sunday, July 16th
Session 2 – Sunday, July 23rd through Sunday, July 30th
Session 3 – Sunday, August 6th through Sunday, August 13th
Deadline for registration for the program is Friday, April 21, 2023. To find out more information on the program, and to obtain an application form, please send an email to unionoffice@unifor506.ca .
International Women's Day 2023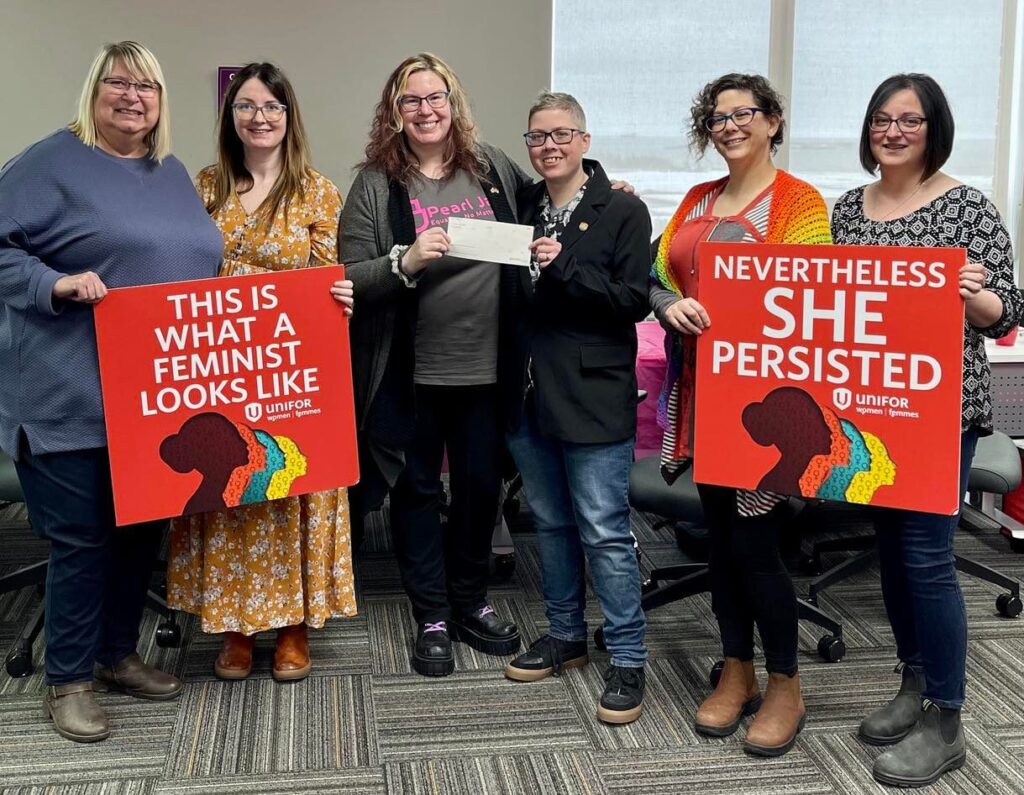 International Women's Day (IWD) is a day to celebrate and recognize the incredible contributions working women have made and continue to make in our country and around the world, and to regroup to face the challenges ahead.
The Atlantic Region Women's Committee hosted breakfasts to mark IWD and Local 506 members attended in Saint John. The guest speaker was Nicki Lyons- MacFarlane, from the Imprint Youth Association who is one of two non- profits selected by Women and Gender Equality Canada for their LGBTQ2 Projects Fund.
This fund supports LGBTQ2 not-for- profit organizations to develop community-informed projects that address systemic barriers faced by LGBTQ2 people. The funding also supports efforts to address intersectional barriers, including Indigenous, Black, racialized, and rural or remote LGBTQ2 communities.
Since the pandemic began, we have been overwhelmed by changes to our daily lives and to the way we work. In many ways, society is forever changed and markedly different from what it was even three years ago. As we mark International Women's Day, we are reminded that in times of societal change, we need to push for those changes to be inclusive and equity- driven, to move us closer to a more equal world.
We remember that International Women's Day is rooted in the collective action of working women who came together on March 8th for gender equality, and for social and economic justice for everyone.
International Day for the Elimination of Racial Discrimination
This important day observed on March 21st is an opportunity to empower people of all races, to reflect on past mistakes and work towards a future of equality. As a union we must inspire inclusion and work to eradicate discrimination in our workplaces and communities. This includes work at the bargaining table.
New language that advances this critical racial justice work was negotiated in our new collective agreement where the company agreed to establish a new Racial Justice Advocate position in the workplace.
The Racial Justice Advocate will be a Unifor-appointed representative who is a member of the Black, Indigenous or racialized community and responsible for providing support to fellow union members on matters related to racial discrimination and racial violence.
Members interested in applying for the role of Local 506 Racial Justice Advocate can obtain an application form by contacting the union office at unionoffice@unifor506.ca.
Unifor Letter to Bell on Mental Health
Unifor President, Lana Payne sent a letter to Nikki Moffat, Chief Human Resources Officer at BCE and Bell on January 19, 2023 about the need to address mental health issues in "Bell's own house."
Workers at Bell, across all units, experience workplace stress, mental health and illness, and workplace culture in vastly different ways.
For these members, workplace stress and other elements that are within Bell's control such as job security, management practices and disciplinary procedures have been primary bargaining priorities for many years.
For Bell Let's Talk Day this year, Unifor asked that the company turn its attention inside, and commit to better resourcing mental health research and data as a first step towards promoting better workplace culture and mental health.
The impact of mental illness on job security and quality of so many Canadian worker's lives cannot be addressed through advertising campaigns.
Unifor has a critical concern that all members have access to workplaces which sustain psychologically healthy and safe working conditions. We ask that Bell takes immediate steps to ensure this interest is realized.
2023 Provincial Budget Meeting – March 28th
On March 28th the membership voted to accept the 2023 budget presented by Local 506 Secretary-Treasurer, Carlos Vicente.
Also presented to the membership was a motion regarding mergers with Local 506 and other local unions. After explaining the need for new members, the membership voted to accept the motion.
REMINDER
If you have a question, an issue you need to discuss, a safety concern, require personal support, or wish to have a union representative at a meeting with the company, please contact us at 506-634-8810 or unionoffice@unifor506.ca